Tobgay wants cows from India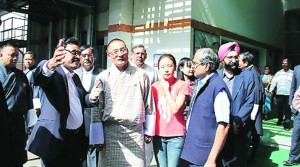 Prime Minister Tshering Tobgay seeks help from Indian dairy company Amul to source 2,000 cows of jersey and HF breed to start dairy production in Bhutan.
He visited Amul Dairy in Anand on Tuesday, along with a 19-member delegation that included his wife Aum Tashi Doma, and sought help with Gujarat Co-operative Milk Marketing Federation (GCMMF).
Tobgay was impressed with the dairy cooperative movement of India and the contribution made by the dairy co-operative in the uplift of farmers. The company in n a press release, Tobgay was quoted as saying: "I have heard a lot about Amul and have grown up experiencing the wonders of Amul. I am delighted and honoured to be at Anand."
Tobgay was also accompanied by his daughter and the finance minister of Bhutan as he visited the plant to understand the process of milk production.
Tobgay also viewed a power point presentation on the history of the milk cooperative since its inception in 1946 by Amul Dairy MD K Ratnam and GCMMF MD R S Sodhi.
The Bhutanese PM said he too belonged to the family of farmers and has cows at his home. He praised the spirit of Amul.