Bhutan continues win in World Cup qualifier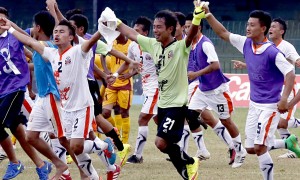 Bhutan's hope for Russia 2018 World Cup continuous to remain alive with the second win against Sri Lanka at the home ground on Tuesday.
Bhutan scored two against Sri Lanka's one goal during the second world cup qualifier played at Changlimithang Stadium in Thimphu.
Sri Lankan turned nervous as Bhutan's striker Chencho Gyeltshen, nicknamed as 'Ronaldo of Bhutan', scored the match's first goal within four minutes.
With the score tied 1-1 late in the game as Sri Lanka equalises at 25th minute, Gyeltshen drove the home crowd to roars of approval when he dribbled away from the goal box in the left corner of the penalty area — only to spin and lash a laser shot that eluded two defenders and the goalkeeper on its way into the near corner. This 90th minute score gave Bhutan a 3-1 aggregate victory over Sri Lanka.
Bhutan dominated second half of the match creating many chances but failed to convert them into goals.
The win puts Bhutan into the Asian group stage, where they'll gain more international experience as they play for a chance to move another step closer to the 2018 FIFA World Cup in Russia.
Bhutan will now take their place in the group stage, involving 40 Asian teams. They will be joined by East Timor , ranked 185th, who beat Mongolia (195th) 5-1 on aggregate.