Bhutan stuns world with win in Colombo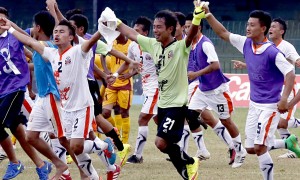 With the historical win in World Cup qualifying match, Bhutan's journey to the Russia 2018 begins with positive node.
Bhutan's national football team defeated Sri Lanka by 1-0 on Thursday in Colombo. Bhutan's midfielder, Tshering Dorji, netted the winning goal in the 86th minute.
"It's a very happy moment for my life. It was moment that I have been waiting for … it was a precious moment to score, and it was a perfect moment to score the goal," Dorji said.
Bhutan's team had undergone a week-long acclimatisation training in Bangkok, Thailand before flying to Colombo for the match.
Second half opened with Sri Lanka's team playing offensive, possessed ball most of the time.
Bhutan described as the worst team according to FIFA ranking, shocked the world with this win. Before Thursday, Bhutan had only three wins to their name and were beaten 5-2 by Sri Lanka in their last international match, at the 2013 South Asian Football Championships in Kathmandu.