PM Tobgay meets Bhutanese in New York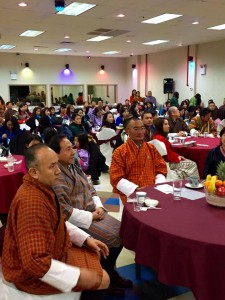 Prime Minister Tshering Tobgay has met with Bhutanese who had come directly from Bhutan in New York, USA on Sunday, March 15.
The resettled Bhutanese remain unaware of the event.
Tobgay is on a nine-day visit to the US to raise awareness for the Bhutan for Life initiative.
The initiative is a funding approach created jointly by the Ministry of Agriculture and the World Wildlife Fund (WWF) to ensure that Bhutan remains economically and environmentally sustainable.
Funding generated through Bhutan for Life will be used to maintain, manage and conserve the country's parks and wildlife corridors. It will also be used to enhance sustainable economic opportunities and the livelihoods for communities residing in the parks through eco-tourism and organic farming.
Besides Bhutanese in New York, PM Tobgay is scheduled to meet with potential partners and institutions for the initiative through events that will be hosted in New York city, San Francisco and Washington DC.
He is also expected to meet with the president of the World Bank, (Dr) Jim Yong Kim and officials of WWF.