Two Bhutanese killed in Kentucky, US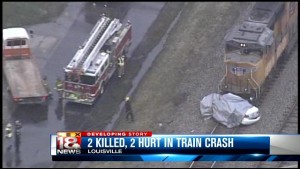 At least two Bhutanese people died and two others were seriously injured in Luisville, Kentucky (USA) when their car entered a train crossing into the path of an oncoming freight train.
An amateur video shot by local resident about the crash shows the accident happened at 4:07 PM local time Saturday.
The intersection has flashing lights and sounds but not gated.
Four people were in the white Toyota Camry at the time of the crash. Two of the people inside the car were killed, while two others were taken to University Hospital in Louisville.
The freight train pushed the car about a half mile down the tracks. The train's horn was blaring, but the driver of the car did not stop.
The area surrounding the track includes a tight-knit Bhutanese community.
Local police identified the two victims as 16-year-old Chita Chuwan of the 2700 block of Goldsmith Lane while the second victim was Suk Man Rai, 19, of the 4400 block of Kranet Way.
The driver and one other person survived, but are listed in critical condition.
The two young men who were already dead, one was Seneca High School and the other from Fern Creek High School, and the other two struggling in the hospital now (are) from Wagner and the other is not in school right now.
The four young Bhutanese men are known for participating in the community's soccer team.