Young Bhutanese refugees share stories of struggle, success
By Stephanie Hacke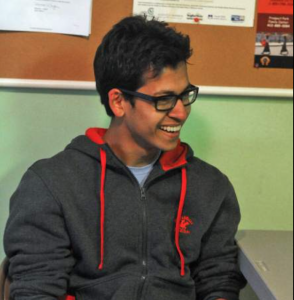 No matter where he goes, people ask Diwas Timsina about his life.
Timsina, 20, was born in a Nepali refugee camp, but his family is from Bhutan, a country in Asia that includes part of the Himalayas.
The questions always are the same: People want to know how he ended up here. Often, they don't understand what he has been through.
"People that live across the street don't know that you existed for more than six or seven years," said Diwas, of Baldwin Borough, who relocated from a refugee camp to Atlanta with his family in 2008. They moved to the Pittsburgh area three years later for better educational opportunities.
To help increase understanding of the refugees' experience, Diwas formed Children of Shangri-Lost, a group for youths to raise awareness about the challenges faced by the Bhutanese community. About 30 middle school to college-age young people meet almost weekly in the Whitehall Place housing complex, formerly known as Prospect Park.
They use short films, blog postings and social media to share their experiences. The group, coordinated by Diwas, plans to become a nonprofit organization with chapters in every state.
A chapter of the group was formed in Georgia late last year.
Members of the group hope using social media will connect the younger generations. They also participate in job fairs and speaking engagements to share their story.
"We need to go out and tell them the struggles that we've been through," said Diwas' brother, Dipesh, 17, a senior at Baldwin High School.
Whitehall has had a large population of refugees dating back to the 1990s, and many of them reside in the Whitehall Place housing complex. The most recent U.S. Census showed that 13 percent of Whitehall's nearly 14,000 residents speak a language other than English at home.
The group — with members from Whitehall, Carrick, Mt. Oliver, Baldwin Borough and Green Tree — met in the summer of 2013 under the name Project Migration and began trying to showcase their journey. In 2014, the group changed its name and purpose, hoping to connect youths from all refugee communities, not just the Bhutanese, Diwas said.
Participants have started hosting cultural events in the Whitehall Place housing complex, where many of them live. Saturday-night activities include singing, drum playing, and tea and biscuits.
Bhutan often is referred to as "the last Shangri-La," but since they 'lost' their homeland, the group members chose to name themselves "Children of Shangri-Lost."
They plan to hold events to unite youths of all cultures, as well as weekly Saturday activities that help preserve the traditions of their homeland.
"We want to peel the gap between the two communities, the Bhutanese community and the communities that we live in now," said Diwas, a 2012 Baldwin High School graduate who is majoring in information science and technology at Penn State University's Greater Allegheny Campus in McKeesport. "I know there's a lot of miscommunication between the two communities."
The members, who have attended American high schools for several years, have ideas to bridge that gap, Diwas said.
"Our goal is to unite youth from all across the region," he said.
They also want to educate people about their past.
"People don't know where Bhutan and Nepal are. Nobody knows anything about where we're from," said Rabina Phuyel, 16, of Baldwin Borough, a Baldwin High School sophomore.
People sometimes think the former refugees are here to get a college degree and go back to their country, Diwas said.
"We are here to stay," Diwas said. "People don't understand that we liked to come here, but also, we had no other options."
Since moving to the United States, many former refugees have raised their standard of living, Diwas said. They've gone to college, participated in sports and bought houses, he said.
Those are stories, too, that will be shared by the group.
"We need to try and be a part of the new culture," Diwas said. "This is our community. This is our home."
Many of their parents still struggle with learning English and adapting to the American culture. Teaching the older generation of former refugees about their new country is another goal of the group.
"They don't even understand how sidewalks work," said Bijay Nepal, 20, of Baldwin Borough.
The "Children of Shangri-Lost" want to help their elders learn about their new land but also keep their traditions alive.
"Let's not forget what we were," Bijay said.