Bhutan donates $1m to Nepal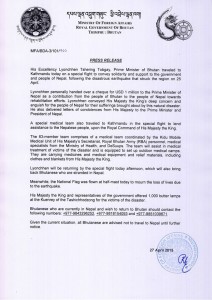 Prime Minister Tshering Tobgay became the first foreign head of government to land Kathmandu with support to earthquake devastated Nepal.
Tobgay along with Health Minister Tandin Wangchuk travelled to Kathmandu in a special Druk Air flight carrying 63 other rescue team members (doctors, nurses, support staff and trained volunteers in disaster operation) on Monday. Tobgay and Wangchuk are expected to returned to Thimphu carrying the stranded Bhutan in Kathmandu.
While in Kathmandu, he met with Nepalese Prime Minister Sushil Koirala and handed over $1 million as financial support from Bhutan. He conveyed the condolences of King Jigme Khesar and the people of Bhutan, and offered Bhutan's assistance.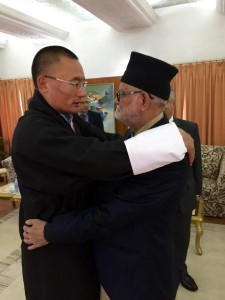 While US's announcement of $1 million donations for earthquake received widespread coverage in Nepalese, Bhutan's $1 million donations went unnoticed.
"I'm overcome with a feeling of national pride at our ability to lend a helping hand when our neighbourhood is dealing with tragedy. I wish our medical team success and pray for their safe return" Tshering Tobgay's official Facebook quoted him saying.
Back in Bhutan, King Jigme Khesar and Queen Jetsam Pema lit 1000 lamps at the Tashichhodzong Kuenrey and joined a prayer ceremony with monks,cabinet members,armed forces, diplomatic officials and people of Nepal in Bhutan.
Similarly, some Thimphu residents have started campaigning to raise funds for Nepal. Here is the one message by Dawa Penjor: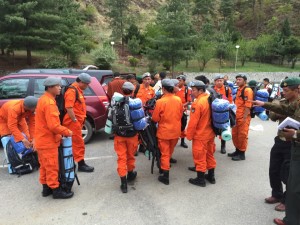 Dear Friends,
I've started a social media citizen's initiative #‎BHutan4Nepal to raise funds for the relief and rescue of Nepal's earthquake survivors and victims. The response to my initiative has been overwhelming and thank you so much for it.
The initiative is at a people-to-people level and a gesture of Bhutanese solidarity for what has happened there. Nepal is not only our neighbour but also a pilgrimage and business destination for many Bhutanese and many of us have friends there.Therefore it is not only humane but also our moral duty and responsibility to support Nepal and Nepalis in this hour of need.
The list of donors along with the amount shall be published in the media for transparency and accountability. The donors will also receive a receipt of their donation amount and a detail of the spending will be provided to the donors.
In this regard, I'm in the process of opening of an account with Bhutan National Bank (BNB). I'll provide the account number as I get it, which will happen most probably by 3 pm this afternoon. The account will be active until 8th May 2015 and any changes will be informed.
Thank you for your support and please continue to spread the word.
Sincerely,
Dawa Penjor
Contact. +975-17608887