Bhutanese movie to be screened across Australia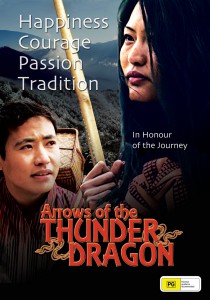 Former Buddhist monk-turned-filmmaker, Greg Sneddon, will present his powerful debut feature film, "Arrows of the Thunder Dragon" at special event screenings in cinemas around Australia from 29 April through to 7 May.
According film producers, each screening will be followed by a Q&A session with the Melbourne-based director, who also wrote the screenplay and composed the score. He will be joined by the film's lead female actor, Tshering Zangmo (aka "Ketii") who is travelling to Australia from her home in a faraway village in Bhutan.
Set in the 1980s, the story of "Arrows of the Thunder Dragon" follows brother and sister Kuenphen and Jamyang, where in a remote Bhutanese village, they learn traditional archery (the national sport of Bhutan) from their old warrior grandfather.
Their mother's sudden illness gives Kuenphen the opportunity to explore the world outside the village, while sister Jamyang must stay home to weave, cook and prepare for marriage.
Filmed entirely on location in the magnificent Himalaya mountains, the actors are made up of local highland village people.
The 'ordinary' current traditional medieval life in tiny isolated Bhutan is fascinating and anything but ordinary from a modern western point of view.
'Arrows of the Thunder Dragon' pays homage to the Bhutanese Olympic Archery Team, and was inspired by the lives of local Olympic women's archery heroes, Sherab Zam and Tshering Chhoden.
A percentage of ticket sales to this event will be donated to the Buddhist nuns in Bhutan, who provide shelter for women affected by all forms of violence.
The film had its World Premiere at CinefestOz Film Festival in 2014.
'Ketii' arrives in Australia on April 22, the date chosen by her local village astrologer, who also governed the shooting dates for "Arrows of the Thunder Dragon.
In Sydney, Greg and Ketii will be joined by cinematographer Leki Dorji, who worked as the official Royal photographer in Bhutan.
Greg Sneddon intends to return to Bhutan and conduct master classes for local budding filmmakers.
Q&A SCREENINGS Times:
SYDNEY
Wed, April 29 @ 6.45pm
Hayden Orpheum Picture Palace, 380 Military Road, Cremorne
www.orpheum.com.au
MELBOURNE
Thur, April 30 @ 7pm
Cinema Nova, 380 Lygon Street, Carlton
www.cinemanova.com.au
HOBART
Sun, May 3 @ 7pm
State Cinema, 375 Elizabeth Street, Nth Hobart
www.statecinema.com.au
PERTH
Tues, May 7 @ 7pm
Cinema Paradiso, 164 James Street, Northbridge
www.lunapalace.com.au
(Rated PG. 91 minutes. Language – Dzongka with English subtitles and English narration.)