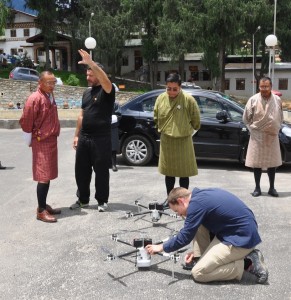 Bhutan came into international headlines when it allowed testing drones last year as an experiment to see if the light flying vehicles could be used for delivering services in remotes areas. However, without existing laws operation of the drones has now been banned.
Ugyen Wangchuck Institute for Conservation and Environment had purchased one such arial vehicle priced at USD 20,000 with plans to use it to map snow cover, forest degradation and deforestation, forest fires, wildlife and shifting tree lines.
The Department of Civil Aviation (DCA) recently issued a notification saying 'unauthorised drones, irrespective of size or weight, is not permitted in Bhutanese airspace.'
It states that this is in compliance with section 4.1.2 of the Bhutan Air Navigation Regulations, which states that recreational flying machines, for which regulations do not exist, are banned within the airspace of Bhutan until appropriate regulations are introduced. it does not say when such regulations will be ready.