Book review
By Aurora Karma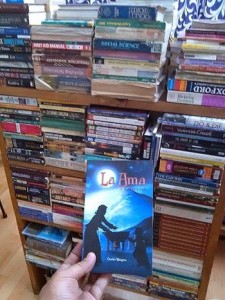 If a man can't get laid, he is called names by his friends, be it men or women and insult him over his capability or question his manhood. We tend not to re-analyze but directly tend to judge over his sexuality, some of the sensitive cases we might even get sued in first world countries.
Yes, in jeering upon for men who don't get laid or whose manhood is questioned from his teenager days, a man is challenged over his ego. He has more to prove to society than treat a woman well, or he simply forgets to treat a woman well because he has got more to prove and become a man by ill-treating a woman? I guess this is where we all start the problem on first hand. Let men and women be treated equally, then only shall we not have problems of women being suppressed.
La Ama is a very bold and blunt book about the realities that might have or is still happening around the world. I once wrote an article about why above all, women should be educated. We see sexual predators everywhere, not that illiterate women are made preys, but even working women are preyed upon. La Ama reflects about stories when a woman has to be dependent upon someone over her bread and butter. It also states about the social dogmatic stigma for adultery committed by women, and not men.
That has always been there, if a man is a sure goti, which most of the times all of men are, it is a good thing. Men don't hesitate to brag about their sex lives while women are judged over theirs'. Some of the lines I liked from this book were:
What does love really mean? Love isn't always about finding the right person and making love to that person every night. Love connects with the soul of the other person without needing the connetion of the physical body. Maybe that's what he meant by calling me his soul mate!

Only a few women seem capable of ascending to such heights of success. The rest of us just become prey to our emotions yoked down by the love bug that shreds us each day as we struggle to play the role of many avatars. The initial role of lovelorn lady usually results in a further spread of wings to become a spouse and mother later.

Although Bhutan claims to have no disparity between the sexes, the truth is quite different. A woman's single act of adultery would be condemned to hell while a man's hundred follies would be condoned as 'a man's nature.'
The characters in this book don't fall prey to casanovas. They fall prey to sugar daddy rapists. And it does reflect about our society's polygamy nature. Whereby men will always try to evade monogamy. You see, there are two things polygyny and polyandry. Google them, it is interesting.
I liked this book because it doesn't try to butter up any of the tourists or fetch money from them, neither does it try to butter up Bhutanese readers as well. It is a bold book and has no Brand name Bhutan attached to it like few of the writers did it in the past. This book surely is written out of writer's passion. And I am passionate about works of people who have the zeal for passion. It does remind us about the follies of our society, bits and bytes of it. Divorce cases, Domestic Violence, Orphaned kids, Pain in ass Relatives, Drayang girls, Night Hunting, etc. You be fool if you think that this is author's true story, we Bhutanese tend to do that. :p And what is a writer? But a person who write with imagination, makes people see things in different perspectives, trying to bring upon a change for betterment?
By the time when you would be done with the book, I promise you, that you will be flipping pages front and back, trying to analyze the stories well. That you will be amazed and think over Dechen's life, her struggle and her choices.
I suggest this book to our generation ladies, why be gender biased? Gentlmen as well! What say? Ladies and Gentlemen, don't hit discotheques for this weekend, save your entry fees and buy this book. This book will teach you more about relationship and marriage. But just because this book says so, that women are judged and men are not judged over adultery, doesn't mean that everybody should practise adultery. Keep it simple, be faithful. You only live once, why live having remorse?
Let's rate this book as well. Well, everybody knows that a book should not be judged by its cover or quality of papers. But I am doing it so, you know why? Well just say, that I have a vision for Bhutanese authors to hit international market.
1. Cover Design / Paper quality: **** stars
2. Story Content: ***** stars
3. Language : ***** stars
4. Clarity of stories: ***** stars
5. Cost: ***** stars
I give 4.8 stars to this book. Kuch zada hogaya.. :p But that is for you to find and me to know. 🙂 Good day folks, happy reading. Grab a copy.
Oh, and those who have read my blog, I will be sending you one copy each, email me your id or give me your addresses.