Tobgay holds talk with Lankan president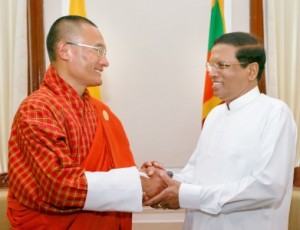 Sri Lankan President Maithripala Sirisena today (10 April) praised Bhutan for democratisation of the country and promoting individual freedoms.
The two leaders, who met today at the presidential palace in Colombo, pledged to enhance bilateral cooperation and establish air links between Paro and Colombo by Druk Air. The two leaders agreed that Sri Lanka and Bhutan have a special relationship as the two countries are bound by common spiritual link of Buddhism.
Prime Minister Tobgay said that Bhutan is extremely grateful to Sri Lanka for the gift of a sapling of Sri Maha Bodhi to Bhutan and it will be highly venerated and respected in Bhutan. He said that the Bodhi sapling will be a sacred symbol of the extraordinary spiritual bonds between Bhutan and Sri Lanka.
The two leaders also discuss about Bhutanese students taking up medical studies in Sri Lanka. President Sirisena said he would provide more seats to Bhutanese students at the Medical faculty of the Kotalawala Defence Academy and examine the possibility of increasing the number of scholarships given to Bhutan.
The two leaders agreed to increase cooperation in areas such as health, agriculture and tourism between the two countries.