Bhutan ratifies international frameworks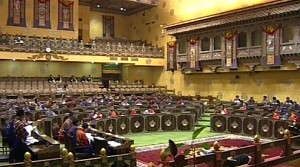 The National Assembly has endorsed three international and regional conventions that will give status to the conventions as the law in Bhutan. The nation has to align all its related law to reflect these conventions.
Of the 37 members presented during the debate, UN Convention Against Corruption (UNCAC) received 37 votes. The UNCAC contains articles on corruption preventive measures, law enforcement crimes, international cooperation, asset recovery, information exchange and establishes conference of States Parties.
The Minister for Home & Cultural Affairs Damcho Dorji said ratification of UNCAC will complement the already existing mechanisms and laws and hence build an effective system of governance.
Similarly, the SAARC Framework Agreement for Energy Cooperation endorsed by the House with 36 votes, is expected to benefit Bhutan with well integration of Bhutan's transmission system with Indian grid for export of surplus power.
Framework Agreement between the Kingdom of Bhutan and European Investment Bank, ratified with 35-2 votes includes project loans, intermediated loans, microfinance and equity and fund investments by European Investment Bank.