Bhutan to introduce short-duration rice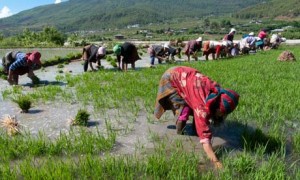 Bhutan's ministry of agriculture and forest is planning to provide local farmers with newer varieties of rice in order to boost the rice production in the country.
The Research Development Centre (RDC) in Bajo has recommended two varieties of rice that are suitable for the south and mid-altitude regions. The centre had tested 12 varieties of rice last year for their adaptability, maturity, yield potential and resistance to pest and diseases. The centre concluded only three of these varieties have shorter maturity period.
The ministry is learnt to be planning some more tests in order to release at least four varieties of high-yielding and short duration rice.
Due to increasing urbanisation and ultimate use of farmlands for establishing expanding towns, the rice production in Bhutan is dwindling in recent decades. The national production does not feed country's population, thus, have to heavily rely on India for additional supplies.
Bhutan currently produces about 78,00 tons of rice but needs to import about 21,000 tons annually.