Bhutanese refugees aiding the victims of earthquake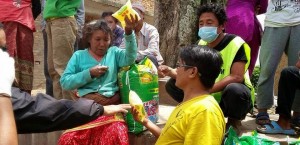 The Bhutanese refugees who are taking asylum in Nepal, camped in eastern Nepal, have engaged in helping the victims of devastating earthquake in Nepal, that has killed over 7,000 people.
"We the Bhutanese Refugees Community residing in the camps would like to appeal all the Bhutanese community and each Bhutanese group involved in collection of donations in their resettled countries, to join hands together to make at least a good impression in the country and outside," a statement issued by them reads.
The refugees have collected around NRs 200,000 from Sanischare, Beldangi camps for the earthquake victims.
In the mean time, a nine-member team of the refugees led by former Timai camp secretary Yubaraj Sampang has reached Sisdhupalchowk district, west of Kathmandu to distribute relief materials for the earthquake victims.
The support was collected from within the camps and donated by resettled Bhutanese in the west.