Human Rights – just in name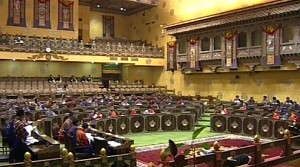 The Human Rights Committee of the National Assembly of Bhutan is more concerned about how night clubs are run but not about the rights of so many children whose fathers were not known, many families who have been divided into Bhutanese and non-Bhutanese and many youngsters who have been denied education in Bhutan because they did not obtained certain percentage in their exams.
The country lacks any independent human rights group or commission to ensure that rights of the citizens and residents are protected. The human rights committee in the parliament does nothing more than presenting a report annual on issues that are not seriously related to human rights.
The latest report presented to the parliament talks about supporting youths released from Youth Rehabilitation Centre and plans about open air prison in Paro.
The reports does not mention anything about the political prisoners, the inability of the state mechanism to protect the rights of citizens in southern districts to live a peaceful life among others.
Ironically, presenting the report Committee Chairperson Pelzang Wangchuk said most of the resolution of the House was implemented and the committee would continue to monitor the implementation of pending activities by the agencies.