Bhutan lose second game in WC qualifier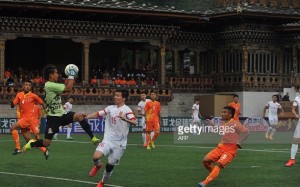 Bhutan has lost the second match of the World Cup qualifiers to China on Tuesday.
Bhutan scored none against China's 6 goals in the second round played in Changlimithang Stadium in Thimphu.
As a team consisted of amateur players, Bhutan fought hard and showed high spirit in this game. Goalkeeper Hari Gurung denied many shots from the opponents and the score stood at 0-0 near the end of the first half.
It was Yang Xu, who did hat trick, opened the scoring in the injuring time of the first half.
Bhutan did not give up though lagging behind. At the beginning of the second half, Chencho Gyeltshen, launched two threatening shots, making China's goalie Yan Junling stretch twice.
However, professional Chinese gradually dominated the Bhutanese amateur players and finally Bhutan lost 6-0 at home.
Bhutan, in Group C, will play the Qatar on 3 September and with Maldives on 8 October.