Bhutan lost by 7 goals to HK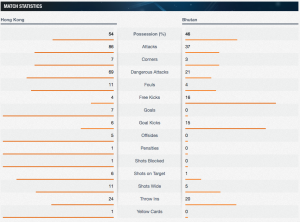 Hong Kong became the biggest obstacle to Bhutan in its dream for Russia 2018. Bhutan lost to Hong Kong by 0-7 in the qualifying match played at the Mong Kok stadium in Hong Kong on Thursday.
The showers of goals begun when the Hong Kong team bust out the Bhutanese defence and James McKee scoring the first goal on 19th minute.
Hong Kong scored three more goals within next 25 minutes leaving Bhutan's world cup dream shattered. Goalie Hari Gurung, perhaps was the busiest player on the ground being tested several times throughout the game.
The physical presence of the professional players was getting the best of the Bhutanese defence as three of the first goals in the first half came from a header. He made some crucial saves minimising the damage which otherwise Hong Kong would have scored dozens.
Newly recruited Bhutanese coach Norio Tsukitate had nothing to say but to advise his players that they need more practice and hard work.
Bhutan will take on China on the home ground during the second game of the qualifiers on 16 June.