Bhutan readying for Mountain Echoes 2015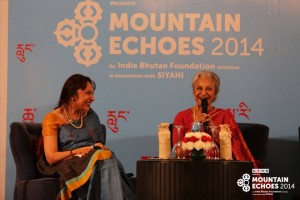 Bhutan is readying itself to host the sixth edition of its annual Mountain Echoes literary festival in capital Thimphu.
An initiative of the India-Bhutan Foundation in association with Siyahi, a literary agency, the festival is being sponsored by the Indian government.
This year, the festival is scheduled for August 19-22.
Every year, the festival hosts writers, poets, visual artists, curators, film critics and commentators from the world over, who engage in cultural dialogue and interactions on myriad subjects, in Thimphu for three days.
Some of the popular figures expected at the festival include author and entrepreneur Ashwin Sanghi, journalist Bahar Dutt, Mayor of London Boris Johnson, author Chetan Bhagat, author Sherub Gyeltshen, author Yonten Dargye and health and Wellbeing author, Josephine Chia.
Actor Kalki Koechin, scholar, historian and meditation teacher Khenpo Phuntsok Tashi, TV host and food writer Mayur Sharma and Rocky Singh, photographer Pawo Choying Dorji, infosys foundation laureate Prof. Nayanjot Lahiri, Director and Screenwriter Rajkumar Hirani, Emmy Award winning filmmaker and activist Ruchira Gupta, cultural historian Rupert Arrowsmith, comedian and author Sorabh Pant, social commentator Suhel Seth, wildlife enthusiast and conservationist Tshering Tempa and blogger Yeshey Dorji are also expected to attend the festival.
Art exhibitions and film screenings at Nehru Wangchuck Cultural Centre and opportunities to sway to the tunes of Bhutanese rock and Indie pop at the Clock Tower Square and Open Mic at Mojo Park music lounge are also expected during the festival.
Queen Mother Ashi Dorji Wangmo Wangchuck is the chief royal patron of the festival while Namita Gokhale, Pramod Kumar KG, Siok Sian Dorji and Kunzang Choden are the directors of the event.
In the past, Hindi literature dominated the whole festival and only a few Bhutanese turned up to with literary creations in Dzongkha language. Nepali, other dominant language in Bhutan is unofficially banned.