Bhutanese-Americans donate 1.9m to Nepal quake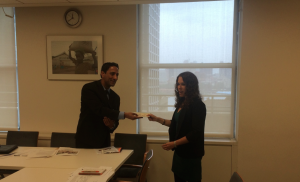 Five Bhutanese delegates from various states of the United States visited UNICEF Office in New York to hand over NRs 1.9 million as support to the Nepal's earthquake victims on Friday.
UNICEF Assistant Director, Civil Society Partnerships, U.S Fund for UNICEF Rachel Steinberg received the donations from the delegates.
This fund was collected through six Bhutanese community organisations in the US (Bhutanese American Organisation-Philadelphia, Bhutanese Community of Scranton, and Bhutanese Community Association of Pittsburgh from Pennsylvania state; Bhutanese Nepali Community of Columbus from Ohio; Bhutanese Community of Greater Rochester from New York and Bhutanese Community Organisation of Minnesota from Minnesota.
The outreach work among communities organisation was coordinated by Mr Ashok Gurung from Pittsburgh.
While receiving funds from the Bhutanese representatives, Steinberg highlighted the humanitarian works of UNICEF in Nepal for over half a century and its similar works in over 190 countries around the world. She welcomed the unity of the Bhutanese communities in the U.S. in participating for such a great cause.
She said that "UNICEF is actively working in all 14 severely affected districts in Nepal in providing healthcare, food, shelter, psychological support, first aid, and identification of unaccompanied and separated children."
"UNICEF will soon create a separate web page for Bhutanese community and update information of Bhutanese support, work progress in Nepal and allow Bhutanese community members to write blogs about their ideas to aid Nepal", she said.
Steinberg also mentioned she is willing to visit Bhutanese community in Philadelphia and Pittsburgh and elsewhere to foster long term community partnership.
Giving an overview of the unity among Bhutanese Communities across the United States for helping rebuild Nepal, one of the visiting delegates Madap Sharma said "While the donation we collected is small, our hearts are big. We are with the people of Nepal at this difficult hour and we commit to supporting Nepal in its rebuilding efforts. We are proud to partner with a reputed UN agency like the UNICEF for such a noble cause of helping children in Nepal in their education, health, nutrition and other emergency needs." Mr. Sharma further added, "We hope that our relationship with UNICEF and the government of the United States will be strong and that God will empower us with humility and sincerity to serve this great nation- the United States of America – that is home to over 80,000 Bhutanese refugees."