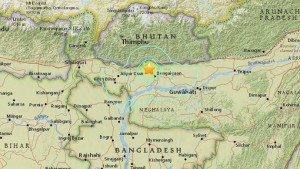 A moderate earthquake early morning on Sunday shook most of the south-western region of Bhutan, forcing people to run out for safety.
At around 7:05 Bhutan time, an earthquake of 5.6 on the Richter scale rocked Assam, Meghalaya, West Bengal in India, eastern Nepal, Bangladesh and Bhutan leaving three injured in that region. No casualties or damages have been reported so far.
The epicentre of the tremor was in Kokrajhar in Assam (just below Gaylegphug in Bhutan) at a depth of 10km on latitude 26.5 degree north and longitude 90.1 degree east.
Earthquakes in the Himalaya region occur due to the convergence of the Indian and Eurasian plates. The relative rate of this underthrusting is 40-50 mm a year, which makes the area one of the most seismically dangerous regions on the planet.
After the devastating earthquake in Nepal, Bhutan government had announced the country is equipped to manage such disasters.