Sub-regional motor agreement BBIN signed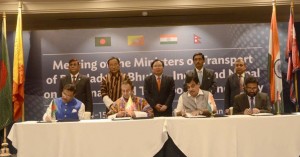 Bhutan, Bangladesh, India and Nepal (BBIN) have signed a regional motor vehicle agreement, paving the way of free movement of both people and goods among the four SAARC member countries.
The sub-regional agreement comes after the SAARC collectively failed to reach the deal during last summit. India and Pakistan blame each other for the failure.
Today, transport ministers of the four countries signed the agreement in Thimphu with expectation to boost the regional connectivity. The agreement has three components—movements of individual vehicle, passenger vehicles and cargo.
However, the countries need few more months to prepare the protocols before the pact could be implemented.
The 'Motor Vehicles Agreement for the Regulation of Passenger, Personal, and Cargo Vehicular Traffic with Bangladesh, Bhutan, India and Nepal' says valid documents would be needed for vehicles to cross over to another country.
The vehicles must have insurance and should not carry the goods included in prohibited and restricted list of the travelling country. Authorised officials can search the vehicles. They would not be allowed to take passengers or load goods midway in any country.
The agreement will be reviewed in every three years or earlier on consensus, and any country can pull out of it giving a six months' notice.
This would mean, landlocked countries like Bhutan and Nepal will have easy access to ports in India and Bangladesh for exports of goods and cargos.