Bhutanese in Ohio, US could have high suicide rate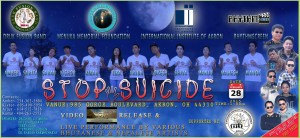 Bhutanese resettled in Ohio state of the US are twice as likely to report thinking about suicide as are those elsewhere in the US, a new report says.
According to the report, they have high rates of anxiety, depression and post-traumatic stress and report that they smoke and use alcohol more frequently than other Bhutanese resettled in the US.
The report was produced after the Ohio Department of Mental Health and Addiction Services surveyed over 200 resettled Bhutanese about suicide. The report does not cite reasons why they think so.
It shows the need for mental-health providers in Ohio to step up treatment and prevention efforts for the growing number of Bhutanese and other immigrants and refugees who have made the state their home.
Between October 2008 and September 2014, 5,654 Bhutanese were resettled in Ohio.
In 2012, the federal Centers for Disease Control and Prevention found that the suicide rate among Bhutanese resettled in America was 20.3 per 100,000 people. That's nearly twice the rate among the general U.S. population and higher than the global suicide rate of 16.9 percent.
Some Bhutanese suffer from depression, post-traumatic stress disorder and other mental-health problems even before they arrive in the US. Others have difficulty learning English, finding employment and providing for their families.