Cairns end Adelaide's dominance in interstate soccer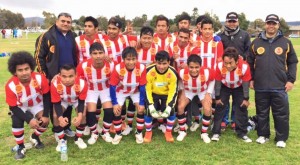 Defeating defending two-time champion Adelaide Dragons Red, Cairns Bhutanese Football Club lifted the title for this year's interstate soccer tournament that concluded on Saturday in Albury.
Cairns defeated Adelaide in final with 2-1 score thus ending Adelaide's dominance in first two years. Adelaide Dragon Blue came third defeating Hobart. Defending champion Albury-Woodonga could not make it to the final this year.
However, Hobart scored victory in girls tournament defeating Adelaide with 2-0 score. There were 12 boys' teams and four girls' teams participating the tournament.
At the conclusion of the tournament, event co-ordinator Ram Khanal thanked everyone for support and participation. I am so relieved and pleased that the fourth Australian Bhutanese Interstate Soccer Championship completed with a grand success. All the players played with much sportsmanship with highest level of respect to the opposition."
Similarly, president of the Cairns Bhutanese Community Tej Man Rayaka said, "Congratulations boys, you played well deserving game. The victory was already certain. 21 goals in total is a big pride for the Cairns Bhutanese Community Inc. Thanks our team captain, team manager and all the energetic players."
Next year the tournament is decided to be hosted jointly by Bhutanese Kirat/Buddhist Association of Tasmania (BKBAT) and Bhutanese Community of Tasmania North (BCTN) in Launceston.