Bhutan out of SAFF U19 championship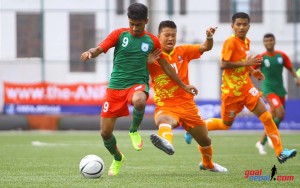 Bhutan registered yet another loss on Saturday in the ongoing SAFF Under-19 Championship being held in Lalitpur Nepal.
Rohit Sarkar and Mannaf Rabby scored each goal for Bangladesh to trash Bhutan's hope for semis.
Despite sizeable number of Bhutanese fans in the audience cheering up their country, Bhutan could not register any goal against Bangladesh. Bhutan made a few good attempts to score.
Bangladesh missed a few chances of free kicks.
Taking advantage of the mistakes of Bhutanese defenders, the corner kick by Bangladesh was easily turned into a score by Rohit Sarkar at 42nd minute. Poor performance of Bhutanese defenders continued, possibly nervous, leading another goal by Mannaf Rabby on 44th minute.
With this game, Bhutan is out of the tournament. Nepal and Bangladesh will play on August 24 to decide the group winner.