Over 98,000 exiled Bhutanese resettled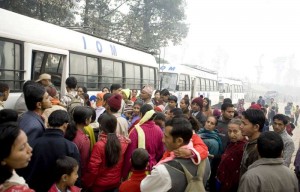 Nearly 100,000 exiled Bhutanese have left Nepal for resettlement to seven western countries in the last eight years.
According to latest information released by United Nations High Commissioner for Refugee (UNHCR), 98,036 exiled Bhutanese have been flown off Nepal for resettlement since it started in 2007. Of them, 48,643 are females and 49,393 are males.
United States has taken the largest chunk of the resettled population – 83,053 followed by Canada which has accepted 6,035 refugee for resettlement.
A total of 5,512 have resettled in Australia, 566 in Norway, 990 in New Zealand, 327 in the Netherlands, 358 in United Kingdom and 874 in Denmark.
According to Nepal government officials, there are still 20,051 Bhutanese refugees living in eastern Nepal. Of them 16,045 live in Beldangi while 3,973 live in Sanichare camp.