Albury (Australia) Bhutanese get new leadership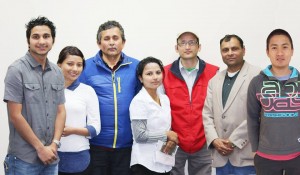 Members of the Bhutanese community in Albury have elected new executive members of the Bhutanese Association of Albury (Australia) in an election held last week.
Pampha Bhujel has been elected as the new president of the association while Ram Khanal has been elected new vice president.
Similarly, Hari Prasad Sapkota is elected as secretary, Jeewan Adhikari is elected as treasurer and Durga Guragai, Tulsi Adhikari and Saraswati Bhandari are elected as members of the new executive committee.
The new team thanked outgoing leaders for a successful tenure and appreciated the time, effort and dedication they have volunteered to complete their term with distinctive excellence.
The members of the outgoing executives included Teju Chouhan (president), Tulshi Guragai (Vice President), Harka Bista (Secretary) and Rohit Basnet Khulal(member), Durga Rimal (member) and Kool Bhandari (member).
"The new board promises to take the legacy forward and it shall strive to take our community to even greater heights," there statement reads.