PM Tobgay meets Nepalese DPM Singh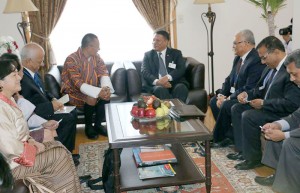 Prime Minister Tshering Tobgay held meeting with Nepalese Deputy Prime Minister Prakash Man Singh, who is leading a Nepalese delegation to the 70th session of the United Nations General Assembly, in New York on Saturday night.
During the meeting, issues related to Nepal-Bhutan relations, constitution promulgation through the Constituent Assembly (CA) in Nepal and Bhutanese refugees were discussed.
It has been learned that the duo discussed the ways to further strengthen the bilateral relations.
On the occasion, DPM Singh thanked the Bhutanese Prime Minister for Bhutan's medical and financial support made during Nepal's deadly earthquake.
PM Tobgay welcomed the promulgation of the new constitution in Nepal.
The discussion also focused on ending the Bhutanese refugee problem in a friendly manner as it was in the interests of both the countries.