Bhutanese observe Durga Puja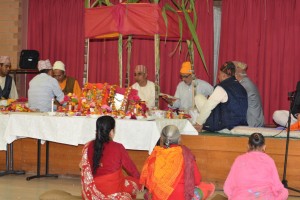 Bhutanese community across the world have started organising observation of Dashain festival, with many of them observing Durga Puja. Dashain Tika will be observed on Thursday.
The Bhutanese community in South Australia observed Durga Puja on Saturday. Over 100 people, young and old, attended the observation held at the Jack Young Centre in Salisbury.
Similarly, the Bhutanese community in Vermont, US, begin celebration of Dashain festival Saturday as they observe Durga Puja. They combined piety and prayers with great food, bright colours, incense, upbeat music and dance in Burlington city.
The newly formed Vermont Hindu Temple hosted the festival at the former St. Joseph School in the New North End with about 100 people in attendance.
Basu Dhakal, one of the temple's organisers, said his community had slowly come to appreciate a measure of economic security and even prosperity.