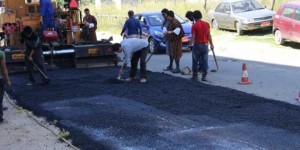 As a measure to build environment friendly roads in Bhutan, trial has begun to build road out of plastic waste.
The first trial demonstration of the technology has begun on a 150 meters stretch in Thimphu.
In the first trial, 515 kgs of plastic waste collected from Memelakha landfill was used and mixed with aggregate and bitumen.
Mixing churned plastic with asphalt and aggregate forms a compound called polymerised bitumen, which is used to blacktop roads.
It was in 2003 that Rikesh Gurung, founder of The Green Road saw plastic wastes being reused to blacktop road by Thiagarajar College of Engineering in Tamil Nadu, India.
Inspired by the technology, he took trainings and worked in India for few years after his graduation.
A decade after he first saw the technology, he began working towards his aspiration to introduce the eco-friendly technology a reality in Bhutan. After making more than 10 presentations to the department of roads and other agencies on his proposal, his project received support from the Business Opportunity and Information Centre (BOiC).
With support of Nu 5.1million (M) from BOiC, he established a factory in Bjemina industrial estate. His parents helped him with about Nu 4M.
Rikesh Gurung said that in a day they are able to collect not more than 200 kgs of plastic wastes from Memelakha. He has 10 Bhutanese employees.
Although The Green Road uses only thin plastics such as carry bags for the bituminous mix, pet bottles and hard plastic wastes will soon be used to make blocks to cover drainages in the city.