Over 100,000 Bhutanese refugees resettled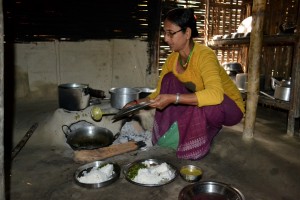 UNHCR, and the International Organization for Migration (IOM), on Thursday marked a major milestone resettling over 100,000 Bhutanese refugees from Nepal to third countries since the launch of the programme in 2007.
Fifty-three-year-old Devi Maya Thapa represents the 100,000th refugee to be resettled from Nepal. She, along with her husband, children and grand-child, will depart for the state of Ohio in the United States in early December. This three-generation family will join Devi Maya's siblings, and over 84,800 other Bhutanese refugees who have started new lives in the USA.
"I am leaving the refugee camp forever after spending more than two decades in Nepal. I am happy that our family will be together in our new country and that my children will have a better future," said Devi Maya.
Her son Bhupendra and daughter-in-law Nara Maya have both been deaf and mute since childhood. "Life in the refugee camp has always been difficult and physical disabilities added more pain," said 25-year-old Bhupendra. "I am happy that I am finally going on resettlement. I will be able to learn new things, have more opportunities and lead a happy life."
Eight years ago, some 108,000 refugees from Bhutan were living in seven camps in Jhapa and Morang districts in eastern Nepal. Today only two camps remain and the refugee population now stands at less than 18,000.
A core group of eight countries came together in 2007 to create this opportunity for Bhutanese refugees to begin new lives: Australia (5,554), Canada (6,500), Denmark (874), New Zealand (1002), the Netherlands (327), Norway (566), the United Kingdom (358) and the United States of America (84,819).
"This is one of the largest and most successful programmes of its kind and the resettlement of nearly nine out of 10 Bhutanese refugees is an extraordinary achievement," said UNHCR Representative Craig Sanders. "Eight years ago few would have envisioned we would reach this milestone. We give credit and thanks to the resettlement countries, the Government and people of Nepal, the refugee community and our NGO and UN partners with whom we have worked for over two decades."
The Chairperson of the Core Group of eight resettlement countries, Australian Ambassador to Nepal Glenn White said, "Australia is proud to have played a part in this highly successful resettlement programme. The departure of the 100,000th Bhutanese refugee is a demonstration of the strong humanitarian cooperation between the eight resettlement countries, Nepal, UNHCR and IOM. I look forward to continued cooperation among the Core Group, Nepal, and our partners in seeking resolution for the Bhutanese refugees who yet remain."
IOM Nepal Chief of Mission, Maurizio Busatti, stated, "Reaching the 100,000th resettlement is a remarkable success, it shows how strong the partnership among all actors has been. Most importantly, we honour the courage of these women, men and children in building their future in a new land, as well as the generosity of those who welcomed them at the other end."
As resettlement reaches its end, it is estimated that around 10-12,000 refugees will remain in the camps in Nepal. UNHCR, together with IOM and the international community, will continue its efforts to achieve comprehensive and lasting solutions for the remaining population.