Bhutan started numbering highways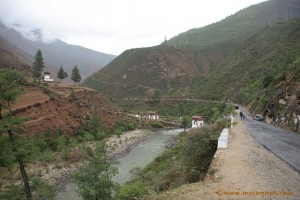 Bhutan has started numbering its highways, in an effort to standardise the road network with international norms.
The Phuentsholing-Thimhu highway is now AH48 while Kheri-Semtokha highway is PNH1.
Similarly, Samdrup Jongkhar highway is numbered PNH3, Gelephu-Trongsa PNH4, Gelephu-Wangdue PNH5, Chunzon-Paro (Drugyel Dzong) PNH6, Chunzon-Haa (Damthang) PNH7, Bonday-Haa (via Chelala) PNH8, Jumja-Manitar PNH9, Tingtibi-Panbang PNH10, Gyelposhing-Nganglam PNH11 and Samtse-Phuentsholing PNH12.
Tingtibi-Panbang is completed but not yet operational while Gyelposhing-Nganglam and Samtse-Phuentsholing are under construction.