Speaker meets Bangladeshi president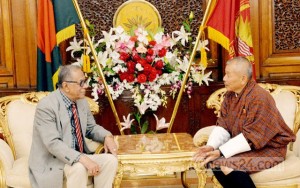 Speaker of the National Assembly Jigme Zangpo has met with the President of Bangladesh Abdul Hamid during this official visit to Bangladesh this week.
Zangpo briefed the president about Bhutan's parliamentary structure and programme. He praised the steps taken by Bangladesh for socio-economic development, political stability, and food self-sufficiency.
The president's Press Secretary Joynal Abedin told media that President Hamid expressed hopes for joint business in tourism and other matters of development at this stage.
The president stressed about the mutual benefit for two countries if excess electricity in Bhutan could be supplied to Bangladesh. He also observed that Bhutan could develop business and investment by using the Mongla Port of Bangladesh.