First Bhutanese gathering in Australia concludes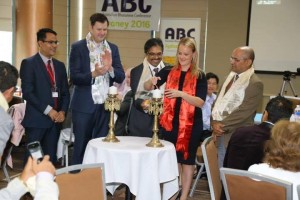 By Devi Pokhrel
The first national level consultation, named Australian Bhutanese Conference Sydney 2016, gathering of the Bhutanese in Australia concluded successfully in Sydney on Sunday.
Over 100 Bhutanese delegates from Bhutanese community organisations in South Australia, New South Wales (Sydney, Albury), Queensland (Cairns, Brisbane), Victoria (Melton, Melbourne) and Tasmania (Hobart, Launceston) gathered in Sydney to share success stories and design plan for future collaborations. The discussion also included formation of a federal organisation representing all Bhutanese across Australia.
The issues discussed at the conferences include community development activities, Bhutanese identity, caste-based discriminations, women and youths empowerment, mental and social health issues, language and literature, empowerment and employment and others.
Dr Naresh Parajuli, chairperson of the Australian Bhutanese Association (ABA) Sydney, said the participants had successful and worthy conversations.
Majority of participants agreed to continue the dialogue with objectives to establish a national level federal organisation that will act as the national voice of Bhutanese living in Australia.
The delegates agreed to establish a federal organisation in future for which an agreement is reached to form a working committee within two weeks that will chart out course for formation of the federal organisation. The state level organisations are requested to submit at least two names following consultations with their local communities.
The participants also agreed, the success stories in each state would be replicated to other states and experiences and expertise will be shared. The establishment of Nepali Ethnic School and inclusion of Nepali in state curriculum in South Australia is the most appreciated agenda of the gathering.
The next national gathering, date not fixed yet, is expected to chart out strategies, objectives and structure of the national governing body.
The consultation concluded with gala dinner and cultural presentation.