RBA in another 'operation all clear'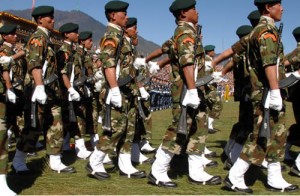 The Royal Bhutan Army (RBA) have launched an operation to flush out top NDFB rebels suspected to have been sheltering in the hills of Bhutan, Indian media claim.
RBA move was under pressure from Indian government looking to arrest those top NDFB rebels responsible for the massacre of adivasis in 2014, and are suspected to be hiding in eastern Bhutan hills.
Media reports claiming sources say RBA have started moving in heavily armed units of its Army to flush the NDFB rebels out of territory.
The RBA had conducted cross-border operations on Bhutanese soil between December 2003 and January 2004 to eliminate Indian militants, including ULFA, holed up in eastern Bhutan.
NDFB military commander G. Bidai is suspected of leading the team of NDFB rebels of the Songbijit faction hiding in Bhutanese territory adjoining Indian districts of Jamduar area of Kokrajhar.
Indian security forces are hunting top NDFB leaders since the outfit killed more than 65 adivasi villagers in Kokrajhar and Sonitpur districts in December 2014.
There hasn't been any news from Bhutanese side. The King of Bhutan directly controls RBA, thus Bhutan government has no clues or barred from speaking even if moves have started.