British royals trek to Paro Takshang
The Duke and Duchess of Cambridge Prince William and Pricess Kate walked uphill today to see the Takshang Monastery in Paro today.
Also called the Tiger's Nest, the monastery was built centuries back and sits on the strategic cliffs 3,100m above sea level. It's a six-hour trek which Prince Charles, father of Prince William abandoned midway in 1998.
Kensington Palace said today "promises to be a very special one" and noted "it is a magical place the Duke and Duchess are thrilled to be visiting. Their hike will allow them to get a real sense of the natural and spiritual beauty of the country".
The Duchess chose to wear leather knee-length boots and a leather gilet despite the heat and the lung-busting altitude.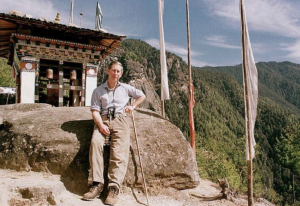 But when the royal couple reached the halfway point after around 40 minutes of steep trekking, the Duchess looked cool and composed, though the Duke was sweating and looked sunburned around his eyes.
"So far so good," laughed the Duke as he spoke to members of the media waiting at the halfway point. "This is absolutely stunning."
He also told the media the walk was "easy" and laughed.
King Jigme Khesar Namgyal Wangchuk had sent some of his own horses to accompany the couple in case either struggled and needed to go on horseback, but neither of them had needed to.
They paused for a few minutes to pose for photographs at the viewpoint before pushing on for the monastery itself.
Because the Tiger's Nest is a sacred site, no journalists or photographers are allowed to accompany the Duke and Duchess into the monastery itself.