Refugee chefs bring their recipes to NYC food company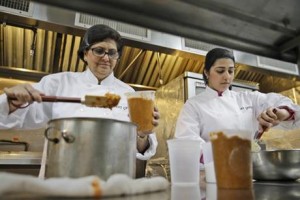 By DEEPTI HAJELA, AP
The kitchen hums with activity. Rachana Rimal is at one table, making momos, the traditional dumplings from her native Nepal. Next to her, Iraqi immigrant Dhuha Jasif mixes some pureed eggplant for baba ghanouj. Containers of adas, a lentil stew from the East African nation of Eritrea, sit on a counter.
The unusual mix of cuisines is how it works at Eat Offbeat, a Queens-based food delivery service. All seven employees are refugees or asylum seekers who fled their home countries.
None had any professional cooking experience before coming to work for the startup, which launched in November.
The company has committed to hiring refugees and teaching them culinary skills, partly for altruistic reasons and partly as a business strategy. In a city filled with good ethnic food, it is a way for the cuisine to stand out.
"We are really focusing on these new and off-the-beaten-path cuisines," said Manal Kahi, who founded the company with her brother, Wissam Kahi. "Refugees are coming from countries that have cuisines we don't really know. … It's not cuisines that you find at every corner."
A Lebanese immigrant who came to New York for graduate school, Manal Kahi started thinking about a food business in 2014 after getting rave reviews from friends for the hummus she made from her grandmother's recipe.
At the time refugees were also on her mind, since many Syrians had started fleeing their war-torn home for next-door Lebanon.
"I was feeling very hopeless about it," Kahi said. "When I got this idea of making hummus, I thought maybe Syrian refugees could be making" it.
As the idea for the scope of the company grew, the thought of employing refugees stuck.
"We thought they were more in need than any other immigrants," she said.
She and her brother partnered with Juan Suarez de Lezo, a chef who has worked in high-profile restaurants around the world, and contacted the International Rescue Committee, a humanitarian organization that helps resettle refugees and asylees.
Rimal was one of their first hires. The 52-year-old was granted asylum after coming to the U.S. in 2006, at the time leaving behind her husband and two of her three children. She was reunited with most of her family in recent years, but her son is still in Nepal, making her reluctant to talk about what drove her to seek asylum. When she left, an armed conflict between the Nepal government and the Communist Party of Nepal had been going on for 10 years, leaving at least 13,000 dead.
She's been a cooking aficionado her entire life, having learned from her mother and grandmother. When the opportunity came from Eat Offbeat, she jumped at it. Since then, momos have become a standard offering on the company's menu, and she's taught the other women how to make them. Another favorite is her cauliflower Manchurian, which comes in a spicy sauce.
Rimal has had to change her recipes somewhat to accommodate an American palate, and she's often tired from the work, but "I'm so happy to be here," she said.
Kahi said the company is making close to 200 meals per week now out of the professional kitchen they rent in Queens.
They offer food delivery to groups of at least five people, with hopes of growing to the point where individual meal delivery becomes economically feasible.
If someone leaves, as the Eritrean refugee who brought the recipe for adas to the company did, Eat Offbeat is likely to take their dish out of circulation even though the other employees would have learned how to make it, Kahi said.
That's because it's not just about the food, but also the people making it, she said. "We want to keep it tied to them."
_______________________
Follow Deepti Hajela at www.twitter.com/dhajela. Her work can be found at http://bigstory.ap.org/content/deepti-hajela