Bhutanese named in Panama Papers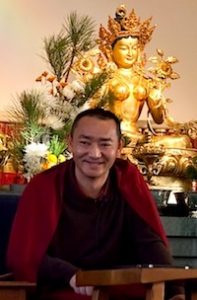 While Panama Papers is causing havoc through the political landscape across the world, Bhutan appears silent so far – unaware of the fact that Bhutanese also have been named in the leaks.
Dilyak Drupon Rinpoche from Bumthang is one of those from Bhutan who has been named in this sensational leaks. He is from Tashicholing in Bumthang, according to the details made public.
He has investment in Cyprus and Britain in the name of Bhutan Limited through Commonwealth Trust Limited.
According to Nalandhabodhi.org, Dilyak Drupon Rinpoche was born in Bhutan on August 8, 1965 and recognized as a tulku by the 16th Gyalwang Karmapa. He was officially enthroned as the second Dilyak Drupon Rinpoche at the age of six, in Rumtek. In 1974 he received novice vows from the 16th Karmapa, and later bodhisattva vows. He was trained as a youth by His Holiness and other great lamas of Rumtek, and attended the 16th Karmapa during his trip to the West in 1981. Rinpoche is a graduate of the Nalanda Institute for Higher Buddhist Studies, from which he received a degree of Acharya.
The Panama Papers are 11.5 million leaked documents that detail financial and attorney–client information for more than 214,488 offshore entities. The leaked documents were created by Panamanian law firm and corporate service provider Mossack Fonseca.
The leaked documents illustrate how wealthy individuals, including public officials, are able to keep personal financial information private. While the use of offshore business entities is often not illegal, reporters found that some of the shell corporations were used for illegal purposes, including fraud, kleptocracy, tax evasion, and evading international sanctions.