California's Little Bhutan
Ayesha Shakya in OAKLAND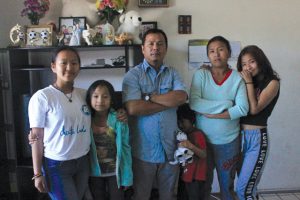 For Dambar Magar and his family, a humble two-bedroom apartment in Oakland is a world away from the bamboo hut they called home in Sector H2 of the Beldangi Refugee Camp in Jhapa. Tucked away in a residential neighbourhood largely inhabited by Mexicans, the Magars share the apartment complex with other resettled refugees from Bhutan and some Nepali students.
Originally from Daga Dzong district in south Bhutan, Magar, his mother and two sisters were among the 100,000 people forcibly sent to Nepal in 1992 during the Druk regime's eviction of Nepali-speaking Lhotsampas.
"Before coming to the United States, I was apprehensive that our new lives would be similar to the refugee way of life we had back in Nepal, but after being here for a few years, it has been all right," says the 45-year-old who is here with his wife and five daughters. "It is difficult at our age to resettle in a new country. But after my brother's son arrived in the United States in 2008, I knew I would have family here."
Magar worked as a carpenter and mason, and after coming here has worked in a bakery, as a delivery guy for Papa John's Pizza, and even as an Uber driver.
"The first few months were extremely difficult and I would often feel helpless. My biggest fear was paying the rent. We heard rumours of people not being able to afford rent and saw some people become homeless and were afraid the same would happen to us," recalls Magar.
The International Rescue Committee and the Bhutanese refugee community played a big role in helping Magar's family get acquainted with the new life in California. Unlike other families who received food stamps for only a few months after arriving in the US, Magar's family still receives them because of his young children.
Older former refugees are happy that they are no longer stateless, but they struggle to adjust to a new way of life.
"When I first came to the U.S., I was lost in school. The students and classes were different and I didn't know English. But I am happy because there are more opportunities here for me to pursue my dreams," says 16-year-old Sushila Magar.
The older siblings clearly miss Nepal, even life in refugee camps, running through forests, bathing in the river in Ilam and 'amilo chatpate'.
"I miss my childhood because that is the best memory from Nepal. There was no technology and we just had fun. Even the festivals and singing bhailo was more fun in Nepal," says Sushila.
Although his older daughters are still connected to Nepali culture, Magar's younger daughters have little or no memory of Nepal and cannot speak Nepali. Following the footsteps of other Bhutanese refugees, Magar and his family are now planning to move out of California to Iowa, largely because of the high cost of living here.
"Apart from the cost, another reason I want to move my family to Iowa is because there are Nepali classes there. Even if my children do not know Magar bhasa, they should not forget Nepali," he adds.
Healing in a new land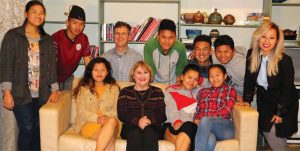 As a young teenager in Sanischare Camp in Morang, Robin Gurung harboured a lot of anger towards the Bhutan government that evicted his people.
"When you live in a camp, you feel like it's a cage. When I used to be outside the camp, I would hide the fact that I was a refugee and it is so difficult to hide from your own identity," says Gurung (second from right in picture with other Bhutanese social workers and American mental health expert, Patricia Ann McIlvride).
Now in the US he is working with fellow-refugees on mental health issues often neglected in resettlement. Refugees from Bhutan have one of the highest suicide rates among emigrants in the US, with 24.4 suicides for every 100,000.
"In the camps, the refugees are somebody but when they come to the US, they are nobody. Younger people adapt more easily to American culture, but older people find it harder," says Gurung who is currently working with Community Health for Asian Americans (CHAA).
Without a community to depend on, most migrants feel alienated and are already dealing with inter-generational wounds. Gurung has been in touch with the Gross National Happiness Centre in Bhutan, but the Thimphu regime is not ready to accept that they were evicted.
Says Gurung: "Bhutan needs to open doors to reconciliation. For people to move on, old wounds need to be healed."