Another architect of 1990 episode retires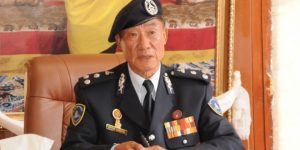 One of the architects of the 1990-genocide in southern Bhutan Kipchu Namgyal, has finally retired, due to age, as Chief of Royal Bhutan Police, serving for over 35 years.
He handed over this responsibility to his subordinate but the government and media have not identified who is taking over the responsibility. The government and media are tight lipped until king makes announcement of new head of police. King controls the security forces.
Namgyal is the sixth Chief of Royal Bhutan Police since its inception. Though a police chief can serve for five-year term, the king extended his term.
Namgyel from Paro joined RBP in March 1980 after completing his Bachelors degree in Arts from Chandigarh, Punjab, India. His two attempts made earlier to join RBP were refused. He was commissioned a year later on January 5, 1981. He was appointed as chief of police in 2008.
He was awarded the 'Drakpoi Thugsey' decoration by King Jigme Singye Wangchuk in 1992 for 'exceptional meritorious conduct and outstanding service' for playing crucial role in torturing, killing and evicting southern Bhutanese.