Dashain event in The Netherlands
Bhutanese Community in The Netherlands (BCN) has successfully organized its planned program for Dasain and Tihar (2016) on 16th. October 2016 at a community hall in Beusichem, a small Dutch town at eastern part of The Netherlands.
One minute silent was observed in the name of those community members who left for heaven during various stages of our refugee lives and could not be by our side during this festival celebration. BCN Coordinator Mr. Gopal Gurung led this moment from the stage and everybody followed suit.
Opening the program BCN General Secretary Mr. Ram Karki welcomed everybody present on the occasion and expressed his good wishes for the successful conclusion of the program. He further highlighted in brief about the importance of celebrating Dasain and Tihar and wished everybody a very happy Tihar.
Bhutanese people actively participated in receiving Dasain Tika, Jamara and blessings from the community's eldest member present Mrs. Pavitra Khadga. The Deusi and Vailo was also played in traditional manner by the Bhutanese Gentleman and Ladies respectively.
BCN's long tradition of promoting its own community artists and skills has been further implemented by giving sufficient space to the community artists in every spheres of cultural events like live music, songs, dances , etc. Renowned community artists like Mr. Tufan Ghale, Yadu Rai, Jitu Rai, Mitra Rai, Saroj Rai, Ronald Gurung, Prakash Gurung, Avisekh Gurung, Chandra Chhetri, Raju Chhetri and their company performed in their best possible manner in various Nepali songs.
Little sisters Karina and Kanchan Khadga and Guest artist Mrs. Ankita Acharya entertained the audience with their dances in popular Nepali songs.
The band led by Mr. Yadu Rai and Mr. Mitra Rai rocked the opening session with their well performed Kanchi Hai Kanchi song leading to spontaneous dances by the masses.
Chief Guest of the event Mr. Marco, a Dutch Police Officer expressed his happiness and gratitude for inviting him as chief guest for the occasion. " I am blessed to receive Tika, Jamara and Blessings from BCN elder Mrs. Pavitra Khadga" and further stressed his appreciations for organizing such a splendid cultural program in their newly resettled country. He thanked the community for making him and his wife Ariette special guest and hoped to participate in future programs if invited.
Speaking on the occasion Mr. Henk van Velden, a Dutch guest shared his experiences during his numerous tour of Bhutan and Nepal. He appreciated the community for organizing such a nice program in their new country of settlement and spoke the importance of promoting and preservering ones cultures and tradition wherever they go. He expressed his appreciations for inviting him and his wife Marian in the program and he hoped to attend in such programs in future too.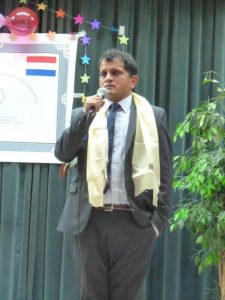 Traditional Bhutanese and Nepalese dishes that were prepared jointly by Mr. Bhakta Khadga (CC member) and family, Chandra Khadga and family, D.B Budhathoki and family, Mr. Gopal Gurung (CC member) and Mrs. Jamuna Karki were served to everybody present on the program.
Dasain and Tihar 2016 program which was chaired by Mr. Ram Karki was hosted by Mr. Pralad Chhetri and vote of thanks was presented by Mr. Gopal Gurung, the coordinator of BCN.
Mr. Gurung thanked everybody for their presence and he expressed his gratitude to the dutch guests for accepting the BCN invitation. Mr. Gurung extended special thanks to all BCN CC members specially Mr. Deo Kumar Rai, Mr. Bhakta Khadga, Mr. Pralad Chhetri, Mr. Jitu Rai, Mr. Khem Bhandari and Mrs. Mamta Basnet for their active participation to make the program grand
success. He further thanked all the artists and volunteers for their excellent performances.
Program was concluded with DJ entertainment.
Mr. Gurung also thanked BCN President Mr. D.P. Mainali, for working hard to make program possible by arranging the hall and coordinating with community members. Mr. Mainali is away in USA for his private visit.