World Bank cuts growth forecast for Bhutan
World Bank has projected that real GDP growth of Bhutan is expected to decelerate to 2.9 percent in FY20 due to significant disruptions from COVID-19 to domestic production, tourism, and services.
A new report outlining the current and future prospect of South Asian economy, WB said 'The tourism industry has come to a standstill since the government suspended travel for incoming tourists in early March. A sharp drop in tourist arrivals in the second half of FY20 is expected to dampen services growth and exports, as well as government revenues. Agriculture, construction and exporting sectors are expected to be ad- versely affected by the COVID-19 pandemic due to sup- ply side disruptions for critical inputs, labor shortages and lower external demand, especially from India. The growth outlook is likely to remain subdued in FY21 with some recovery expected in FY22. Inflation is expected to remain moderate in the near term, as rising food prices in India and imported inflation are offset by low oil prices.'
'Exports and imports are expected to be depressed. The growth slowdown in India – exacerbated by the spread of COVID-19 – is expected to dampen external demand for non-hydro goods and services from Bhutan. In addition, domestic production in Bhutan is also likely to decline. Meanwhile import growth is projected to decelerate as the COVID-19 outbreak curbs hydropower and invest- ment projects. On balance, the current account deficit is likely to persist given Bhutan's dependence on essential imports, both for consumption and investment. Over the medium-term, the external deficit is likely to narrow, in line with the increase in electricity exports, as the Mangdechhu and Punatsangchhu II projects come on line.'
The fiscal deficit is expected to widen to 3.4 percent in FY20 due to a pickup in current spending in response to the COVID-19 outbreak, and an increase in salaries and wages. Capital expenditure is expected to decrease as the government reduces discretionary spending. While non-hydro revenues are projected to decline with the slowdown in the services sector, hydropower revenues will increase due to the one-off profit transfer from the commissioning of the Mangdechhu hydro power plant. Over the medium-term, improvements in tax policy and administration, and the implementation of the Goods and Services Tax will be critical to increase revenues.
Poverty reduction will continue at a modest pace. The poverty headcount rate at USD 3.20 per day is projected to gradually decline to 9.8 percent in 2020 and 8.8 per- cent in 2021. The impact of the COVID-19 outbreak on the poverty headcount rate is expected to be modest, as most of the poor work in subsistence agriculture. However, some social impacts may materialise primarily through an impact on labour income. A large number of households hat directly or indirectly depend on tourism may suffer from job or earnings losses. Reduced demand for agricultural products could lower exports and hurt agribusiness- es and their employees. Given high levels of pre-existing malnutrition, food security needs to be monitored closely, especially in remote areas.
In the event of a protracted outbreak of COVID-19 – with precautionary behaviours and restrictive policies remaining in place for several months, and supply chains
and external demand continuing to be affected – economic growth could decelerate further to 2.2 percent in FY20. Further, a domestic outbreak of COVID-19 would have substantial societal and economic costs.
Other risks include possible further delays in hydro project completion and lower-than-expected rainfall, which would negatively impact growth, and reduce exports and government revenues. Slower than expected implementation of the Goods and Services Tax would also affect fiscal outcomes, because of the discontinuation of excise duty refunds and lower levels of grant financing from India. In addition, the risks from weaknesses in the non-banking financial sector remain and need to be monitored and contained.
Poverty, measured using the USD 3.20 poverty line, is expected to decrease slightly to 9.8 percent in 2020. Food security in remote areas needs to be closely monitored.
Bhutan's minimal caseload has allowed a full isolation of those affected, with only a handful of active cases, but disruptions are still an issue due to the large number of people under quarantine.
Import ban on meat, fruits and vegetables (mainly imported from India) caused an immediate surge of people in markets, until the reversal of the fruit and vegetable ban. Many countries reported shortages of various essential commodities, in part because of bottlenecks as suppliers of essential goods grappled to cope with the sudden surge in demand.
The Ministry of Agriculture and Forests encouraged all farmers and other interested individuals to increase food production by offering concessions and subsidies. The government also encouraged wholesale and large retailers to ensure continued food supply across the country.
Over 37 percent of total exports consist of hydroelectricity sold to India, so the severity of the lockdown in India could affect Bhutan's electricity export growth indirectly.
There has been a show of solidarity for quarantined persons as well as Bhutanese stranded abroad.
---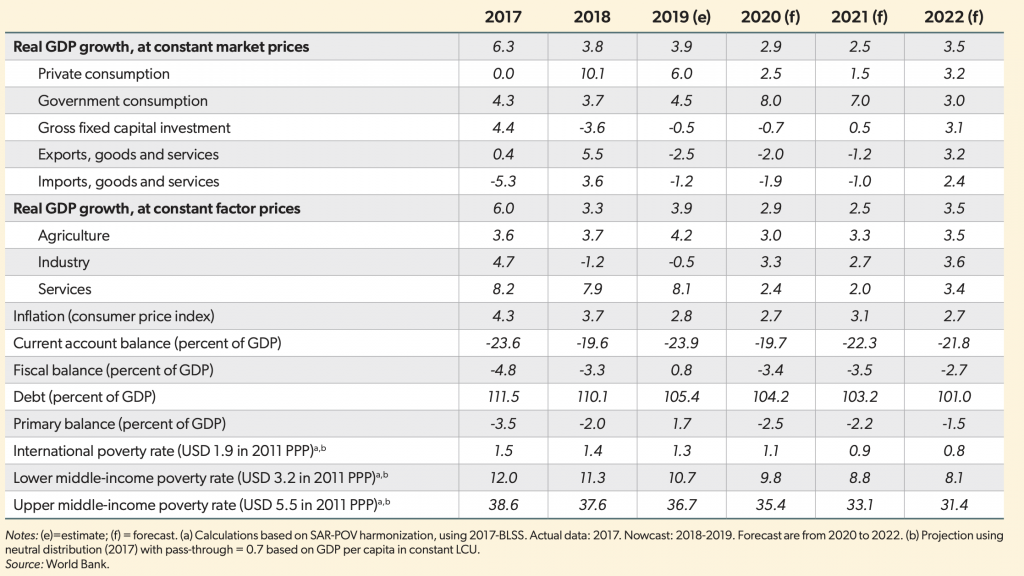 ---