DNC celebrates foundation day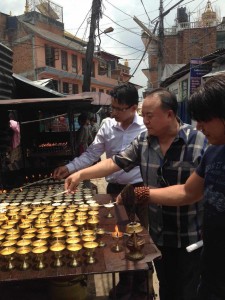 Members of Druk National Congress celebrated the party's 21st Foundation Day at Kathmandu on Tuesday. The party was established on the 16 June 1994, by Late Rongthong Kunley Dorji, with the support of the Bhutanese people both in Bhutan and in exile.
A minute's silence was observed at the Foundation Day program to mourn the victims of devastating earthquakes that hit Nepal on the 25 April and 12 of June. Butter lamps were lit in the memory of the earthquake victims. The Party expressed its heartfelt condolence to the Government and the people of Nepal, at the terrible loss of life.
On the occasion, Kesang Lhendup, party president, urged the political parties inside Bhutan and democrats, to show more courage and resolve in consolidating the democratic gains thus far, and further assert the sovereign rights of people by engaging in legal campaign and political activism.
The irony of Bhutanese "democracy" is that pioneers and distinguish forebears of the democratic struggle were legally denied democratic rights, and excluded from participation in the political process. The existence of political parties in exile is testimony to the level of political and civil freedoms in Bhutan.
The party also demanded that the Royal Government release all political prisoners unconditionally.
An official party Facebook page was also unveiled on the occasion.